Relaunching your events strategy?
4 ways to optimize your approach.
Ulicny's 4D method can help you retool your post-pandemic events strategy.
Whether your events target investors, financial professionals, or internal audiences, adapting the ways you connect — virtually and in person — is now a business imperative. Here are ideas to consider as you relaunch your firm's event strategy.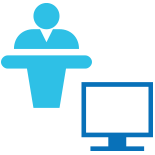 1. Differentiate your approach.
Most organizations are rethinking events right now — so how can you make yours stand out? Having a clear idea of exactly who you're trying to reach and what's in it for them can help you gain a competitive advantage and differentiate your firm.
Get started: Begin by asking yourself, What do investors view as our strengths? Creating events based on core facets of your value proposition can help you cut through the clutter and focus on topics you can truly "own."
To read more, complete the form >