While regulators have issued clear guidelines on what financial firms can and cannot do on social media, many big names in wealth management are still playing it safe. This could be because in-house compliance teams are reluctant to see their firms venture into social territory—or it could be because of the technology investment required to safely engage through social media and meet FINRA requirements.
I recently spoke with Ulicny Director of Content Ben Eyler, who's seen firsthand how this process works. His perspective: "Culture is the driver that makes it possible for communications, compliance, and technology teams to get their firms up and running on social media. When they view one another as partners, not as adversaries, they can set their companies up for success in social."
Who wants to socialize with a company?
Firms that effectively use social platforms to build their brand and increase loyalty usually understand one thing: People want to connect with other people, not with corporations. So getting your employees set up and ready to play the role of brand advocate might be the best route to social media success.
When companies increase employee social engagement—creating, sharing, and liking articles—the reach of those messages can expand dramatically. This is because, taken together, employees' social networks are typically 10 times larger than their company's.1 Further, research shows content shared by employees receives twice as many clicks as content shared by their firm's corporate social accounts.2 In the end, when human beings share a message and make it relatable, people are interested.
To help you think about how to advance your social media plans, here are a few standout examples of senior leaders at asset management firms who are using Twitter to help their firms build their brands, attract and retain clients, and increase their company's reach.
Invesco: Amplifying leadership voices​
One organization that clearly encourages its leaders to share their thoughts on Twitter is Invesco. Invesco has an impressive lineup of thought leaders who regularly post updates on the markets, build interest in upcoming company events, and retweet each other's—and the company's—posts, massively increasing the firm's reach.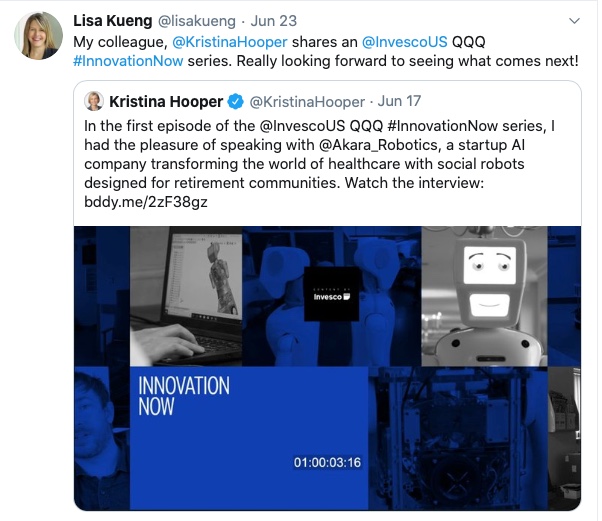 What asset managers are doing well
@LisaKueng, director of creative campaigns, humanizes the brand by sharing the company's posts from her own account. She reminds followers about her upcoming speaking engagements, and even posts on personal topics—favorite films, for instance—reminding investors of things we all share in common.
@eapachuta, chief marketing and analytics officer, Americas, and @Rob_Waldner, chief strategist and head of multi-sector, both regularly retweet Invesco colleagues' posts. Waldner also shares his insights, including some recent views on markets and liquidity.

Barings: Standing out with authenticity​
One way for companies and their leaders to distinguish themselves on social media is by being real and using their own voices, versus posting preapproved, canned content. Authenticity is rewarded mightily on Twitter—and the opposite is also true. Barings' CEO, @tfinke, takes on a particularly human tone in his posts. The firm also recently introduced a new feature series called #BaringsWFHLife, in which team members around the world share stories and perspectives on working remotely.
What asset managers are doing well
@tfinke, chairman and CEO of Barings, incorporates personal branding on his Twitter feed, with family photos and posts about his kids. He also uses the platform to announce new hires, congratulate team members on their accomplishments, share his personal thoughts on current events, and retweet posts by others at the company, which helps set the tone for others at his firm to use Twitter in similar ways.
@MichaelFreno, the company's president, and @sgboehm, COO, have recently ventured into Twitter territory, retweeting colleagues' posts, thanking COVID-19 frontline workers, and generally humanizing their brand by tweeting in their own voices on topics that matter to them.

Van Eck: "Liking" the CEO ​
Another example of authenticity coming from an asset manager on Twitter is courtesy of Jan van Eck, CEO of Van Eck. In addition to sharing business-related posts—views on investment products, technology, and the market—he recently shared an endearing note from his daughter.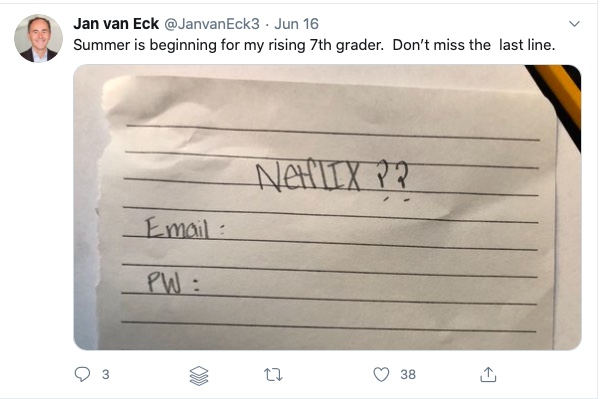 What asset managers are doing well
By letting his personality shine through—it is called social media, after all—@JanvanEck3 accomplishes a number of important goals. Namely, he grabs your interest and makes you like him, which could mean you're more likely to pay attention to something he wants you to know about his business. By combining those corporate updates with personal ones, van Eck keeps his feed lively, engaging, and real.

In the end, however, using Twitter to build your brand starts with getting infrastructure—compliance, legal, and technology—in place to make it possible for employees to be heard, all in service of helping you increase brand awareness, loyalty, and sales. Once you have that foundation built, your firm can unleash the power and potential of the dynamic, intelligent, and real voices of your leaders and employees.