Over the past few weeks, we've been looking at asset managers who are using Instagram and Twitter to build their brands and effectively connect with investors. This week, I spoke with Michael Corrao of Thornburg Investment Management about how his firm is creating content—particularly videos and podcasts—to reach investors and showcase the asset manager's perspectives. He also discusses the "virtual 5K" his firm organized to stay connected with investors during quarantine.
Podcasts: Market insights and tips for advisors
Thornburg recently introduced two new podcasts. Can you tell us about them?
Yes, we launched two new podcasts just before we began working remotely. The first one, "Away from the Noise," features members of our Santa Fe-based investment team sharing their market insights across geographies and asset classes. The idea is to use the fact that our location—away from major financial hubs—gives us an edge. With our 40-person investment team, there's always something to dive into on the podcast, from the latest in the municipal bond market to what's happening on the ground in China to the impact on global markets of pricing volatility in the energy sector.
The second podcast is called #NowMe with host Jan Blakeley Holman, who shares advice and tips for ways advisors can speak to their clients. Jan has over 45 years in the financial services industry, many of which were spent as a financial advisor and an advisor to advisors. We think the episodes are the perfect length for busy advisors, roughly 10 minutes each, and contain salient guidance and suggestions for conversations with their clients. I play a more direct role on this podcast, producing and editing the episodes.
Video: Responding to rapidly changing events
How have you been using video to communicate with your clients?
Video is more popular than ever. I'm lucky to have a talented colleague on my team, Michael Nelson, who spearheads the production and handles all of the editing and publishing of the videos we shoot at Thornburg, always with the highest protocols for social distancing and safety in mind.
Over the past several months, we more than doubled the rate of video production to meet information demand from institutional clients and financial advisors. Unsurprisingly, these efforts have led to record amounts of traffic to our website because there's a thirst for connection and great content.
Several aspects are key to our success. First, during volatile markets, timeliness is paramount. Michael generally turns videos around in 24-48 hours, and as a result, our clients show their appreciation with clicks. On Fed decision days, we do as much preparation in advance as possible and aim for a speedy release a few hours after the press conference concludes. From timeliness, it's critical for us to put ourselves in our clients' shoes. We tackle topics and questions their clients are likely to have, and all within a three- to-five-minute clip.
Early on in the COVID-19 crisis, we also enlisted the help of Alden Mills, a Navy SEAL, author, and investor, to give insightful tips to our clients as they adjusted to working remotely. Alden spent months at a time in the cramped quarters of submarines, so he has plenty of advice to help us survive and thrive in our new circumstances. His videos are a veritable how-to guide to handling present-day life and are available on our website.
Do you do anything special to get the most from your video content?
Researching and scripting videos and podcasts takes work, so we repurpose that content in a few different ways. While we are recording videos, we use Otter.ai to record audio and produce a live transcription. It's a lifesaver for quickly reviewing recorded content against our script outlines. We also use the transcripts to guide a first cut of a video. Podcasts are also transcribed, and we post the transcriptions alongside each episode. It's a recommended best practice from an accessibility standpoint and great for SEO.
In my role as director of global communications, I speak with journalists every day. They love quickly pulling quotes from our video and podcast transcripts because it's a time-saving substitute for a phone conversation. Our clients also find the written companions easily digestible for skimming and lifting from our content for quick notes to their clients.
Videos also increase our email open and clickthrough rates. We always mention the video length in the email, since we know people have lots of distractions competing for their attention—so for a client to know up front how much time they will have to invest to watch a video is a subtle yet important detail.
Closed captioning is the final touch we give our videos. It's helpful both to people who rely on it and to those who prefer to watch on mute.
Email campaigns: Weekly features and impromptu communications
Do you use email campaigns to reach investors?
We run several concurrent email campaigns. Clients and prospects receive a weekly digest with new videos and podcasts, and many of them are signed up for another series we call "The Long and The Short of It" in which we feature both long-form essays and short three-minute blog posts.
The unique confluence of events this year prompted us to increase our ad hoc communications. For instance, our clients relied on our thoughts after Fed meetings and large, sudden market moves. As a nimble organization, we collaborate with little notice across the organization as a single team to produce, review, and email clients a response and commentary as quickly as possible. The timelines and utility of this content are high, and as a result our email metrics tend to reflect great engagement.
Other content was less timely but still important to produce. Notably, on our home page, we created a COVID-19 section featuring our latest letter to shareholders from CEO Jason Brady; an update to our business continuity practices; and service and support we've offered our community.
Virtual 5K: Engaging investors on Instagram and Twitter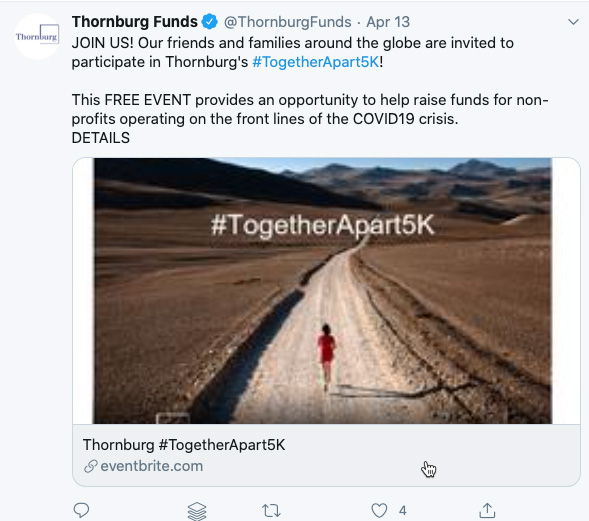 What inspired your virtual run #TogetherApart5K?
We're always looking for new and innovative ways to engage with our clients and community. Once quarantine set in, we wanted to find a way to not only to stay in close touch with our contacts but also to support some of the nonprofit groups focused on helping in the fight against COVID-19. In April, a group of my co-workers had a brilliant idea to organize #TogetherApart5K, a virtual event designed to keep people moving and connected, while raising money for hunger relief, PPE, and our local community. One co-worker even designed a printable bib to wear during the event.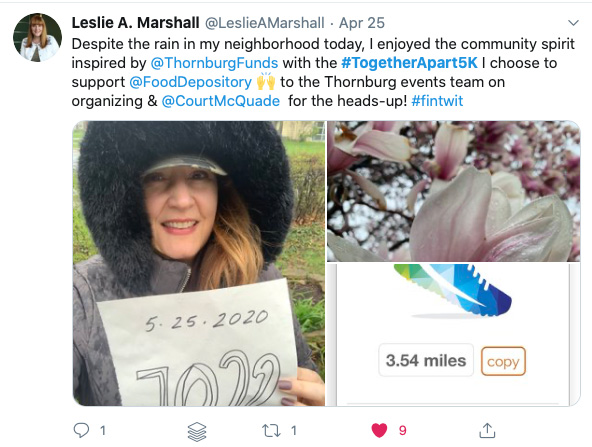 We kicked off the virtual 5K on Instagram live, cheered each other on with live tweets during the event, and filled our Instagram page with tons of photos of our 250 participants from around the world, who represent over 90 different companies.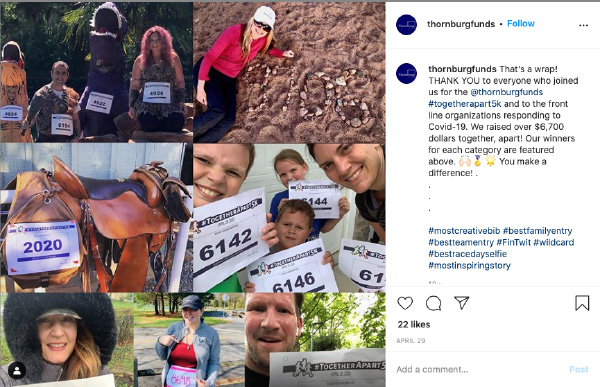 Seeing so much interaction on social media between co-workers, clients, and friends during a virtual 5K was quite an experience. Scrolling through our Instagram posts from that day still brings a huge smile to my face. Plus, our efforts raised over $6,700 for Feeding America, Direct Relief (PPE for medical workers), Santa Fe Community Foundation, and 16 other nonprofits.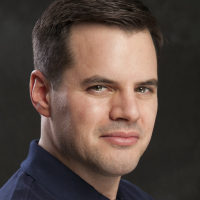 Michael Corrao is the director of global communications for Thornburg Investment Management. He oversees the firm's global external relations activities, including corporate communications and media relations.
Prior to joining Thornburg, Michael was the director of communications and investor relations at Salient Partners, L.P., a diversified asset management firm and provider of real asset and alternative investment strategies, and investor relations manager at The Rohatyn Group, an emerging markets alternative manager with assets in hedge funds and private equity. Michael started his career at Bloomberg L.P. in multiple international client support and sales positions.
Michael graduated from New York University with a B.A. in English and is fluent in four languages.